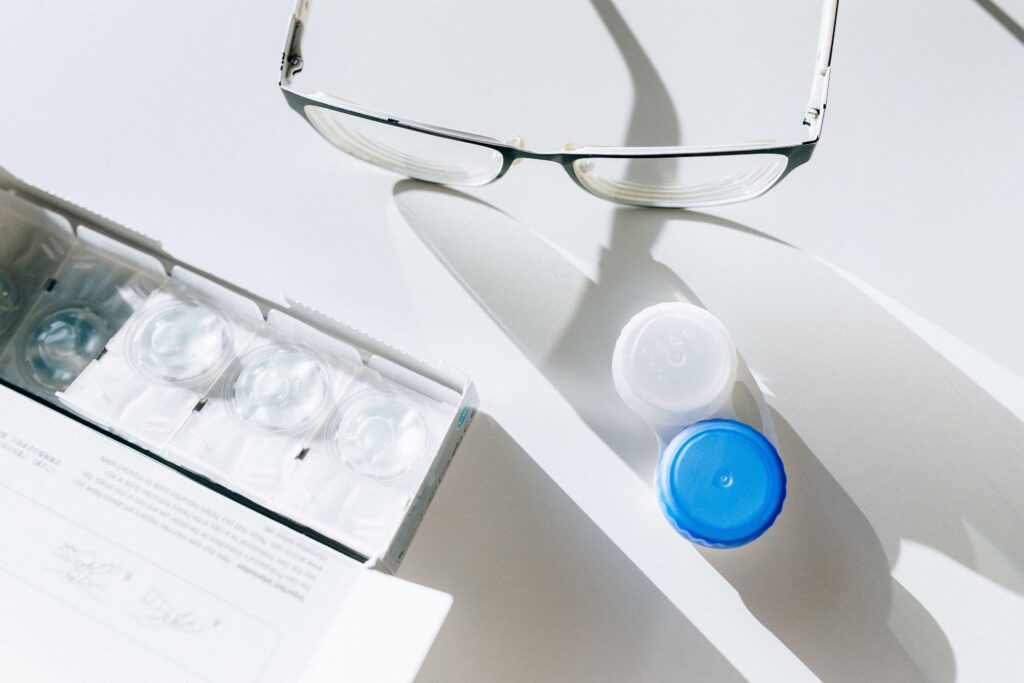 If you suspect that you or a loved one have astigmatism, you probably have a lot of questions about what that means. We strive to answer all of the most common ones. If you have further needs after reading this blog post, you should schedule an appointment here at Wildwood Vision Specialists — our expert team would be happy to get you in for an eye exam and answer all questions about astigmatism treatment and your specific case.
First, though, let's start with some basic facts.
What is astigmatism?
Astigmatism is a refractive error in the eye. People with astigmatism experience blurry vision — this can manifest as poor night vision and double vision, but the key is that the distortion occurs at all distances.
Astigmatism differs from nearsightedness (myopia) or farsightedness (hyperopia) in that the issues with vision are not related to distance, but it is similarly common. In fact, most people who experience astigmatism also have some degree of myopia or hyperopia. This is an important factor in astigmatism treatment.
What are the symptoms of astigmatism?
As we mentioned in the previous paragraph, astigmatism is primarily categorized by fuzzy vision at all distances. Some more specific symptoms include:
Squinting to see better
Headaches
Eye strain
Lights at night having glare, halos, or streaks
Double vision
Difficulty with night vision
If you are experiencing any of these symptoms, you should make an appointment with your eye doctor so they can assess whether you need astigmatism treatment.
What causes astigmatism?
The clear outer layer of the eye is called the cornea, and in order for light to correctly filter through it and onto the retina, it needs to be round. When the curvature is off, astigmatism occurs. The cornea focuses the light on multiple different spots instead of on one, and that causes blurry or double vision at all distances. In some cases, it's the curvature of the eyes' lenses that causes astigmatism, but that is much less common than the cornea.
Astigmatism is not a disease, so you don't have to worry about it spreading. Injuries and surgeries can sometimes cause astigmatism, but otherwise, doctors don't have a conclusive reason as to why some people need astigmatism treatment and others don't. Most people who experience astigmatism develop it as children or young adults, though some people are born with the condition.
How is astigmatism diagnosed?
During your annual eye exam, your eye doctor will check your eyes for signs of astigmatism. They have tools that can measure the surface of your eyeball. Since astigmatism is usually caused by the cornea being misshapen and incorrectly curved, those measurements will show how far out of the normal range the cornea is. More severe astigmatism will cause more severe vision blurriness, and the cornea measurements will quantify those issues.
Because it's so common, eye health professionals are very familiar with astigmatism and its treatment, and it shouldn't be difficult to get a diagnosis.
Is astigmatism correctable?
The short answer is yes. Your eye doctor can prescribe glasses or contacts for astigmatism. There are also some surgeries that are able to correct astigmatism in a more permanent manner. However, most people opt for corrective lenses.
Keep in mind, though, that certain kinds of astigmatism are not always fully correctable. Astigmatisms can be divided into two different categories:
Regular Astigmatism: This is where the two axes of your cornea are fully perpendicular, making it more predictable and simpler to treat using corrective lenses.
Irregular Astigmatism: When the two axes of your cornea are not perpendicular, that means the astigmatism is trickier to correct, and it's considered irregular. This is typically caused by eye injuries, surgeries, certain diseases, or keratoconus (a progressive eye disease where the cornea thins and bulges into a cone-like shape).
The majority of people with astigmatism fall into the first category, and their vision issues can usually be corrected to the normal level. Most people choose one of two ways to do that: Glasses or contacts for astigmatism.
Glasses for Astigmatism
By using a special cylindrical lens, glasses for astigmatism can change how light refracts through your cornea and therefore sharpen blurry vision. Since most people with astigmatism also experience some degree of nearsightedness or farsightedness as well, some glasses can be created to correct those types of refraction issues in addition to astigmatism treatment.
Your eye doctor can provide plenty of guidance on what the best glasses for astigmatism are in your specific circumstances, but some general rules of thumb include paying attention to the lens material, coating, and layers, as well as how the frames fit your face.
Contacts for Astigmatism
There are three main types of contact lenses, and each of them can be used for astigmatism treatment. Which variety you would be the best candidate for will be determined by your eye doctor. To give you a sense of what each one entails, they are:
Toric, or soft contacts
Gas permeable, or hard contacts
Hybrid, or contacts where the center is hard and the edges are soft
Each type of contacts for astigmatism has its own benefits. Toric lenses tend to be more comfortable than the other options, but when it comes to correcting for astigmatism, they also tend to be more expensive. Gas permeable lenses often provide the best results when it comes to vision, but they do tend to be more uncomfortable right off the bat.
A special kind of gas permeable lenses are called scleral contacts. These sit on the sclera (the white part of the eye) and vaults over the cornea. They can be particularly beneficial for those with severe or irregular astigmatism, or conditions like keratoconus, where traditional contact lenses may not fit properly or provide adequate vision correction.
Will I need astigmatism treatment?
If your annual eye exam detects that you display signs of astigmatism, the next step is for you and your doctor to determine whether you would benefit from astigmatism treatment or not. There's no way currently to reshape your cornea outside of surgery, and that form of astigmatism treatment is reserved for the most severe cases.
On the other end of the spectrum, some people with mild symptoms don't need astigmatism treatment at all. Very slight deviations from the normal cornea measurements will not always need a corrective lens. Your eye doctor will be able to make the determination as to whether you would benefit from contacts or glasses for astigmatism.
Most people experiencing these issues are somewhere in the middle and do require astigmatism treatment in the form of corrective lenses. There aren't any medications or other forms of treatment that have been proven effective for astigmatism.
Can I outgrow astigmatism?
Unless you're a baby, probably not. Many children begin life with astigmatism and then see it disappear by the time they're ready to enter school, but if it's still around after that, it's typically permanent. In fact, it often worsens until around age 25. After that, the degree of astigmatism you're experiencing should stabilize. So, while astigmatism can slow or stop its progression over time, it's not going to resolve on its own.
How common is astigmatism?
Astigmatism is a common refractive error. Estimates suggest that about one-third of the population has some degree of astigmatism, although the severity and type can vary significantly among individuals. Many people may have such a mild form of astigmatism that they might not even notice any significant vision distortion or may not require corrective lenses. However, for those with more pronounced astigmatism, corrective measures like glasses or contact lenses can make a significant difference in their vision clarity. Always consult with an eye care professional if you suspect any vision abnormalities.
Is astigmatism hereditary?
Yes, astigmatism can run in families. If one or both parents have astigmatism, their children are more likely to develop it as well.
Is LASIK a viable treatment option for astigmatism?
Yes, LASIK and other refractive surgeries can correct astigmatism by reshaping the cornea. However, the suitability depends on the individual's eye condition and the severity of the astigmatism. Most people opt to correct their astigmatism in a less invasive way, like contacts or glasses for astigmatism.
If you're interested in permanently treating your astigmatism with refractive surgery, you should consult your eye doctor. They'll be able to determine whether you would be a suitable candidate or not.
Can astigmatism be prevented?
Most astigmatism is hereditary, so it can't be prevented. However, protecting the eyes from injuries by using protective eyewear can prevent trauma-induced astigmatism. Remember, if someone suspects they have astigmatism or any other vision problem, they should consult with an optometrist or ophthalmologist for a comprehensive eye exam.
Can astigmatism get worse over time?
Yes, astigmatism can increase in severity as time goes on. As we explained in a previous section, most astigmatisms stabilize around the age of 25. If you started experiencing astigmatism before that age, it's common for it to get worse until then. That's one of the reasons why it's so important to schedule annual eye exams and have your eye doctor monitor those changes as they arise.
Why do I see ghost images or shadows around objects?
Ghosting or shadowing in vision is a common symptom of astigmatism. This happens because the irregular shape of the cornea or lens causes light to refract in multiple directions, leading to the perception of double or multiple images. These distortions can be especially noticeable in low light conditions or when viewing high-contrast objects, such as white text on a black background. Proper correction with glasses or contact lenses can typically alleviate these symptoms.
Is astigmatism the same in both eyes?
Not necessarily. It's possible to have astigmatism in just one eye or to have different degrees or axes of astigmatism in each eye. This condition, where the two eyes have different refractive errors, is called anisometropia. When the difference is significant, it can cause challenges in finding the right corrective lenses that provide clear vision and are comfortable for both eyes.
Does digital screen use worsen astigmatism?
While excessive screen time can exacerbate symptoms of eye strain and discomfort, especially in people with uncorrected vision problems, there's no concrete evidence to suggest that digital screen use directly causes or worsens astigmatism. However, it's essential to take regular breaks and practice the 20-20-20 rule (every 20 minutes, look at something 20 feet away for 20 seconds) to reduce eye strain.
Is astigmatism linked to headaches and migraines?
Yes, uncorrected astigmatism can lead to eye strain, which in turn can trigger headaches. When the eyes continually struggle to achieve clear vision, the extra effort can lead to muscle fatigue and tension around the eyes and forehead. This doesn't necessarily cause migraines, but for individuals prone to migraines, excessive eye strain might act as a trigger.
Can astigmatism be induced by eye surgeries like cataract removal?
In some cases, yes. Eye surgeries, such as cataract removal or corneal surgeries, can sometimes result in induced astigmatism due to changes in the shape or integrity of the cornea. Surgeons are well aware of this potential outcome and use precise techniques and instruments to minimize the risk. If post-surgical astigmatism occurs, it can usually be corrected with glasses, contact lenses, or additional surgical interventions.
Get checked for astigmatism at your annual eye exam.
Astigmatism, while common, often raises many questions among those diagnosed with it or suspecting they might have it. Understanding this eye condition is essential not just for clarity but for peace of mind. We hope this blog post has shed light on some of your concerns and provided clarity about astigmatism.
Remember, while information online is a great starting point, there's no replacement for a comprehensive eye exam by a trained professional. If you believe you might have astigmatism or any other vision-related concern, don't wait. Schedule an eye exam at Wildwood Vision Specialists today. Our team of experts is dedicated to ensuring that you have the clearest vision possible and the knowledge to maintain your eye health. See the world more clearly with us!